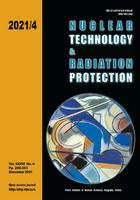 Vol. XXXVI, No. 4, Pp. 299-383
December 2021
UDC 621.039+614.876:504.06
ISSN 1451-3994


Pages: 352-357

Authors: Nenad M. Kartalović, Saška D. Djekić, Saša B. Djekić, Uzahir R. Ramadani
and Dušan P. Nikezić

Abstract


Quantum mechanics consideration, supported by a concrete example, yielded standard sources of direct voltage measured by frequency (which is the most accurate measurable physical quantity) and extremely sensitive instrument for measuring magnetic induction SQUID (which is an acronym based on the term Superconducting Quantum Interference Device). The possibility of these measurements is based on the Josephson junction. In this paper, the influence of gamma radiation on the measurement uncertainty Type A, of a commercial Josephson compound, is investigated. The conclusion is that both dynamic gamma radiation and the dose of gamma radiation, under the conditions of the experiment, have a negligible effect on the measurement uncertainty of the Josephson junction. Based on the obtained result, it was concluded that in the primary metrological conditions, the measurement uncertainty type A of the Josephson junction is negligible, i. e., that the secondary cosmic radiation does not affect the standard of the DC voltage source.
Key words: Josephson junction, gamma radiation, measurement uncertainty Type A
FULL PAPER IN PDF FORMAT (500 KB)