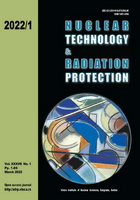 Vol. XXXVII, No. 1, Pp. 1-89
March 2022
UDC 621.039+614.876:504.06
ISSN 1451-3994


Pages: 11-17

Authors: Vladimir D. Lukić, Milica M. Spasojević, Milentije D. Luković, Miroslav D. Spasojević, and Aleksa M. Maričić

Abstract


Kinetics and mechanism of hydrogen adsorption in as-obtained and ground nuclear graphite Wendelstein 7-X are examined. In the first time interval the adsorption process is determined by dissociation of the hydrogen molecule, occurring at the outer surface and in open micropores of nuclear graphite particles. However, in the second time interval, the slowest step in the hydrogen adsorption is inter-granular and inter-crystallite diffusion in nanopores of graphite. The X-ray analysis shows, that grinding of as-obtained nuclear graphite results in finer particles with finer nanocrystals and larger density of opened pores and carbon reactive sites. The capacity and rate of adsorption increase with comminution of nuclear graphite particles and adsorbed hydrogen does not substantially alter the microstructure of nuclear graphite.
Key words: hydrogen adsorption, porous graphite, surface area, nanocrystalline nuclear graphite, kinetic and mechanism
FULL PAPER IN PDF FORMAT (626 KB)